Learning English with Bayswater
Our philosophy is to educate, encourage and help students enjoy our course towns. It is often a case of helping students to 'come out of their shell', increase their confidence in using English and provide an opportunity to use it in meaningful situations, both inside the classroom and out in the real world.
Academic Overview
Our main aim is to facilitate students' linguistic development, inspire confidence and increase their fluency in spoken English. This can be achieved by a combination of:
Academic Programme
On a standard Bayswater Summer course, we offer 15 hours of tuition a week. Our timetable is usually organised on a zig-zag basis. This means that students will have lessons in the morning and their social programmes in the afternoon and evening. This is then reversed on a weekly basis. Consequently, students attend morning and afternoon lessons on alternate weeks* which allows the students to get the most out of their time with us.
All students take a test prior to arrival and have a brief interview upon arrival to assess how well they are able to understand and speak English. This enables us to place them in the class where they will be happiest and most successful. Normally the maximum class size is 15. We have a system of continuous enrolment which allows students to join the school on any given day.
We operate a system of swapping teachers, whereby students have the main class teacher for the first two sessions and then a second teacher for the last session. This helps to expose students to a wider variety of accents and teaching styles, but it also breaks up the routine and teachers have an opportunity to build on each other's strengths. The first two sessions are grammar and language based, while the last one focuses on CLIL (Contents and Language Integrated Learning), during which students use English to learn about other subjects e.g. Geography.
General English
Using previous experience and knowledge we have designed our own course books that are aimed to match the specific needs of young learners on our short-term courses. The core structure of the syllabus has been designed by carefully following the Common European Framework (CEFR).
Our Books
'E is for...' is an innovative 4-level course for Young Learners of English on short and intensive programmes. It introduces the language as it is used in today's globalised world and promotes English learning through thought-provoking topics and content-rich lessons. The integrated and balanced topic-based syllabus is easy to follow and covers subjects for the a range of English Language testing frameworks.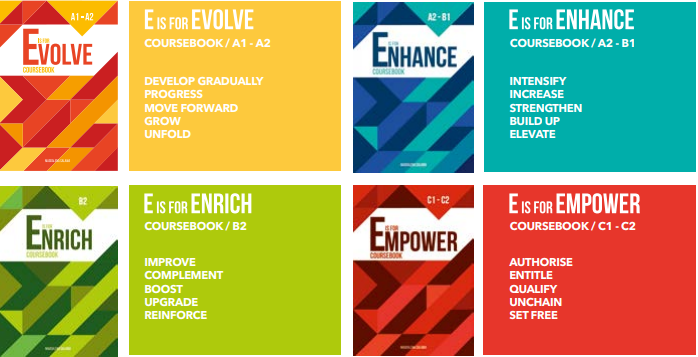 Speaking Exam
At some Bayswater Summer centres we offer preparation for and achievement of LanguageCERT qualifications that support students who wish to develop their proficiency in English language speaking. Exams are designed to complement general English language courses and Exam preparation takes place during lessons and focuses on the development of communicative skills and building confidence among candidates. Our teachers offer guidance about the knowledge and skills required at each proficiency level and prepare our students to the best of their abilities.